One of the most anticipated concerts this summer and every summer is the Lollapalooza festival in Chicago.  This year, the highly anticipated Soundgarden reunion is happening here, as they are the headliners along with Green Day, Lady Gaga, Arcade Fire, and The Strokes, among others.  There are a TON of bands each year as there are over a hundred this year.  The set dates for summer 2010 are August 6-8.
The word "Lollapalooza" dates from an American idiom from the late 19th century meaning "one that is extraordinarily impressive; also, an outstanding example"
What many people do not know is the impact it has had on other bands and concerts around the globe.  It was created in 1991 by Jane's Addiction frontman Perry Ferrell as a farewell tour for his band (even though they reunited later on).
The inaugural 1991 lineup was made up of artists from various genres, drawing in headliners from post punk such as Siouxsie and the Banshees to rap such as Ice-T as well as industrial such as Nine Inch Nails. This concert is best known as Nine Inch Nails' first big break into mainstream music and where they first became popular.
Bands such as Tool, Primus, Red Hot Chili Peppers, Soundgarden, Pearl Jam, and others were known to make their big breaks at this festival over the years.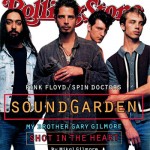 To hear more about the Lollapalooza Festival this summer, listen to "The True Raprock Hour" with Alex Howard from 3-4pm every Thursday!!! Tomorrow's show will focus on this summer's Lollapalooza Festival and the reuniting of Soundgarden.